I've been making oatmeal for breakfast for years. Oats and fruit are easy to digest so it's a great way to get your digestive fire going with something warm in the morning. And it never gets boring because you can vary with the fruits, nuts and spices as much as you like and according to what you have available in your kitchen.
Some people avoid oatmeal because it is too sloppy for them (especially the older Dutch generation have some childhood traumas) but by roasting the oats (and using the more coarse rolled oats rather than fine instant oats) it stays nice and firm.
I used to use milk or soy but I find water is much lighter in the morning and just as tasty. Be careful not to use too much water to avoid that feared sloppiness.
By adding some nuts and seeds, you'll include some protein into your first meal of the day and end up with very healthy, complete, delicious breakfast that happens to be vegan, gluten-free and free from refined sugar.
Ingredients: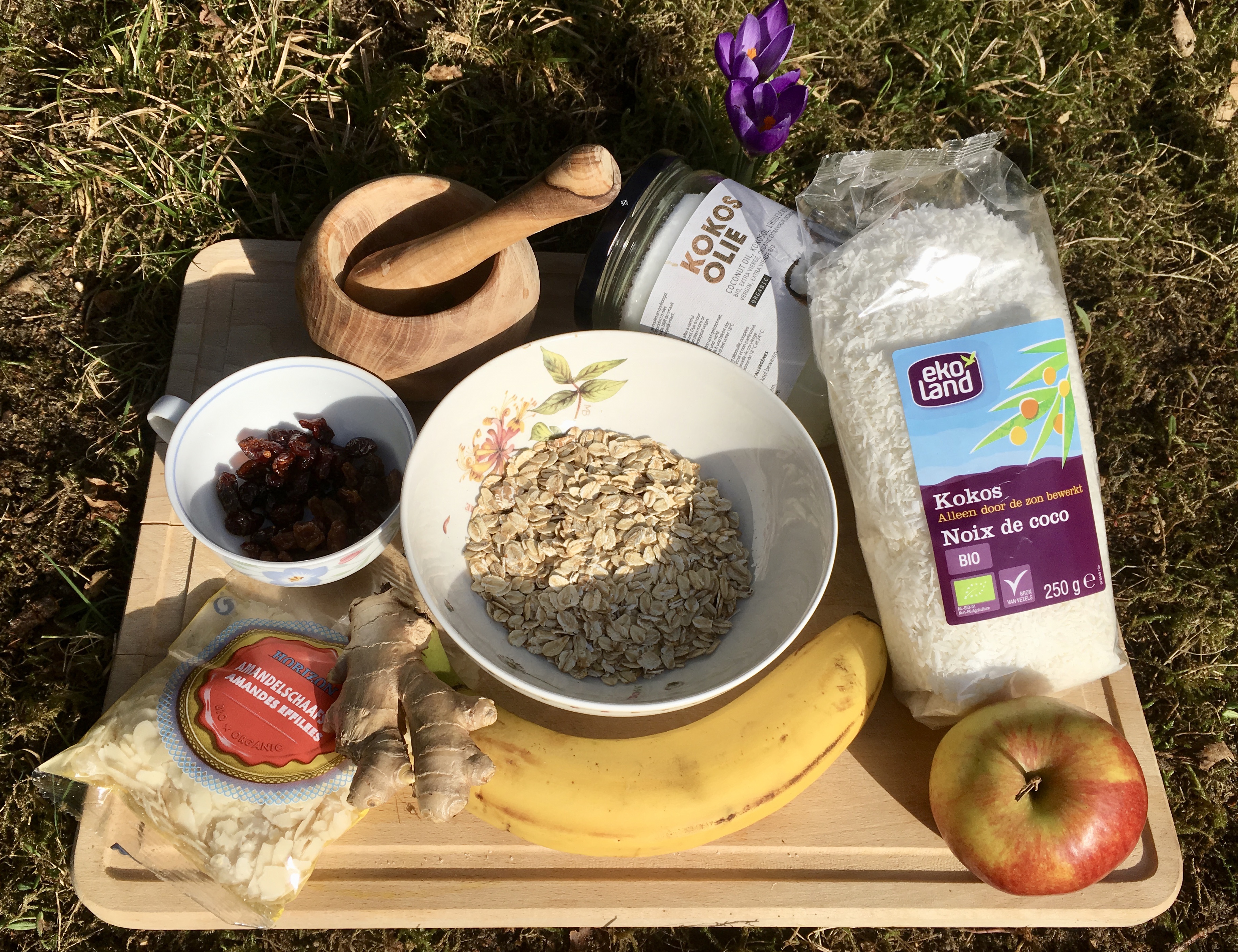 • ½ cup of oats per person (preferably rolled oats instead of instant oats – for the Dutch: grove i.p.v fijne havermout)
• water
• fresh ginger (approx. 1 cm per person)
• cinnamon and/or cardamom pods
• fruits, for example ½ banana per person and ½ apple per person
• dried fruits, for example dates, raisins or cranberries
• coconut oil
• nuts and seeds
Directions:
• Roast the oats in a small pot until they smell nicely and turn golden. Be careful not the burn them. I like to dry roast them but you can also roast them in coconut oil.
• Add water till approx. half a cm above the oats, bring to the boil (which will be super quickly)
• Grate fresh ginger into the pot
• Add other spices, the fruits and dried fruits
• Cook for a minute or 2, take off the stove, add coconut oil if you were dry roasting.
• Now the oatmeal is ready but it will be even better when you leave it sit with the lid on for another 5 – 15 minutes – this is a perfect moment to take a shower, do the dishes or prepare lunch to take to work ☺
• Scoop into a bowl, add some nuts and seeds and ENJOY!
For the oatmeal in this picture I used: oats, banana, apple, fresh ginger, cardamom (using pods and grinding them gives so much more flavor!), cranberries, coconut oil and roasted coconut and roasted almond, yummie!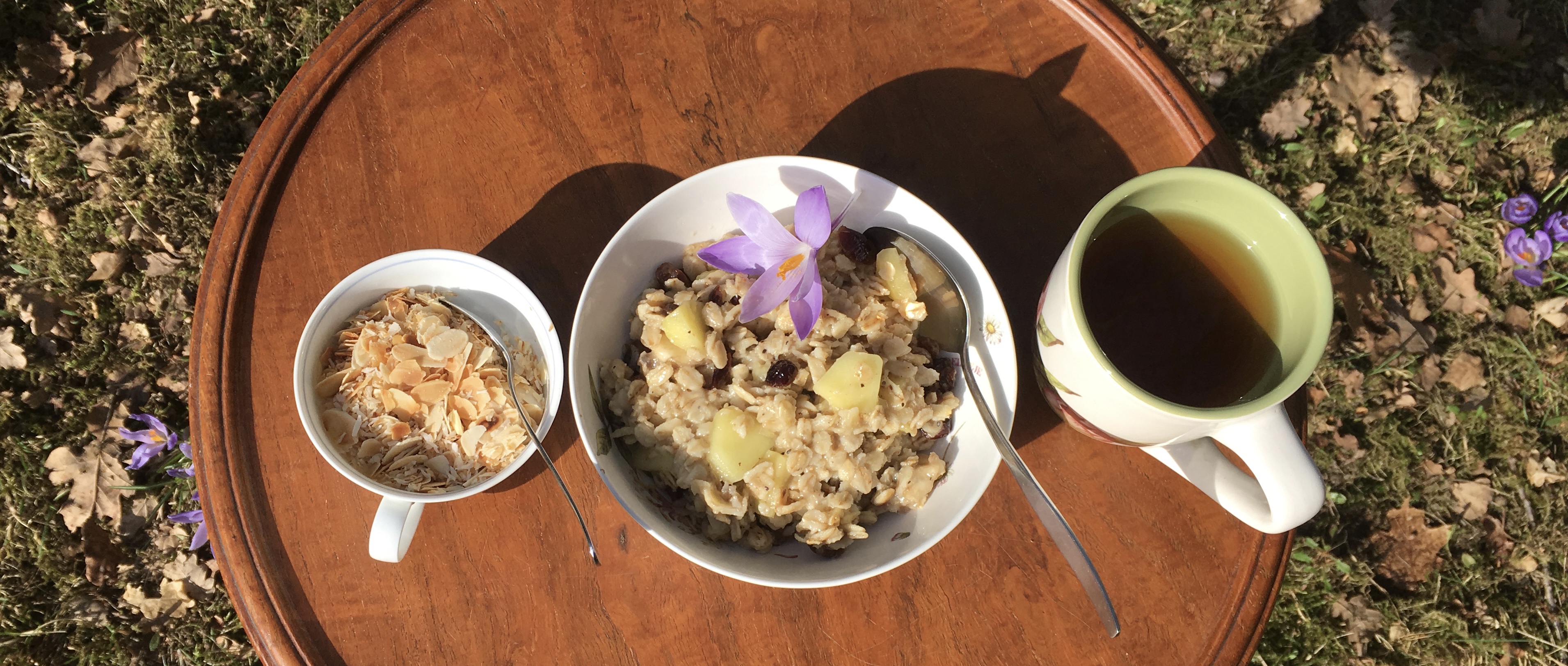 Some more tips:
– Seasonal fruit: I love adding berries and when in season I add them fresh on top to keep their prana! When berries are not in season, cooking some frozen fruit with the oats is also an easy solution.
– Nut and seed butters: they are also a great way of adding some protein and lots of flavor to your oatmeal. Think of combining peanut butter and banana or tahini and honey.
– Digestive aid: ginger has very warming qualities so it will ignite your digestive fire; preferably use grated fresh ginger. Ginger can be helpful with slow and fast digestion.
Seeds are very nutritional and can be helpful for people with slow digestion. (People with fast digestion have to be careful not to speed up their digestion too much… 😉 ). Seeds in itself are hard to digest so it is recommended to either soak them or roast them before use.
Soak: chia, flax and sunflower
Roast: sesame, pumpkin and sunflower
When using hemp seeds, buy de-shelled ones and you can just throw them in.
– Oils: instead of coconut oil, you can also use other oils. Not all oils are suitable for heating like sesame oil and flaxseed oil so only add them at the end.
– Sweeteners: if you have a sweet tooth, try adding agave syrup, maple syrup or honey instead of refined sugar to keep it healthy. Also be mindful of cranberries, they are often sweetened with sugar so look for the ones sweetened with apple juice.
– Superfoods: depending on what benefits you are looking for you can use any type of superfood; for example maca powder, raw cocoa powder, inca berries, goji berries, mulberries, bee pollen, hemp seeds, chia seeds, flaxseeds. Use the more sweet and nutty ones rather than the green ones.