This creation is a result of almost out of date tempeh and a huge bag of coconut flakes that I ordered online without realising how big it was 😀
The softness of the oven roasted vegetables goes really well with the crunchy fried tempeh and pan roasted pumpkin seeds and coconut. I used butternut squash and carrots but it would also go wonderfully with other squashes, other root vegetables or sweet potatoes.
I served it with a sweet potato and arugula 'stampot' (Dutch dish consisting of mashed potatoes mixed with some vegetables). But it would pair nicely with a salad or some steamed broccoli as well.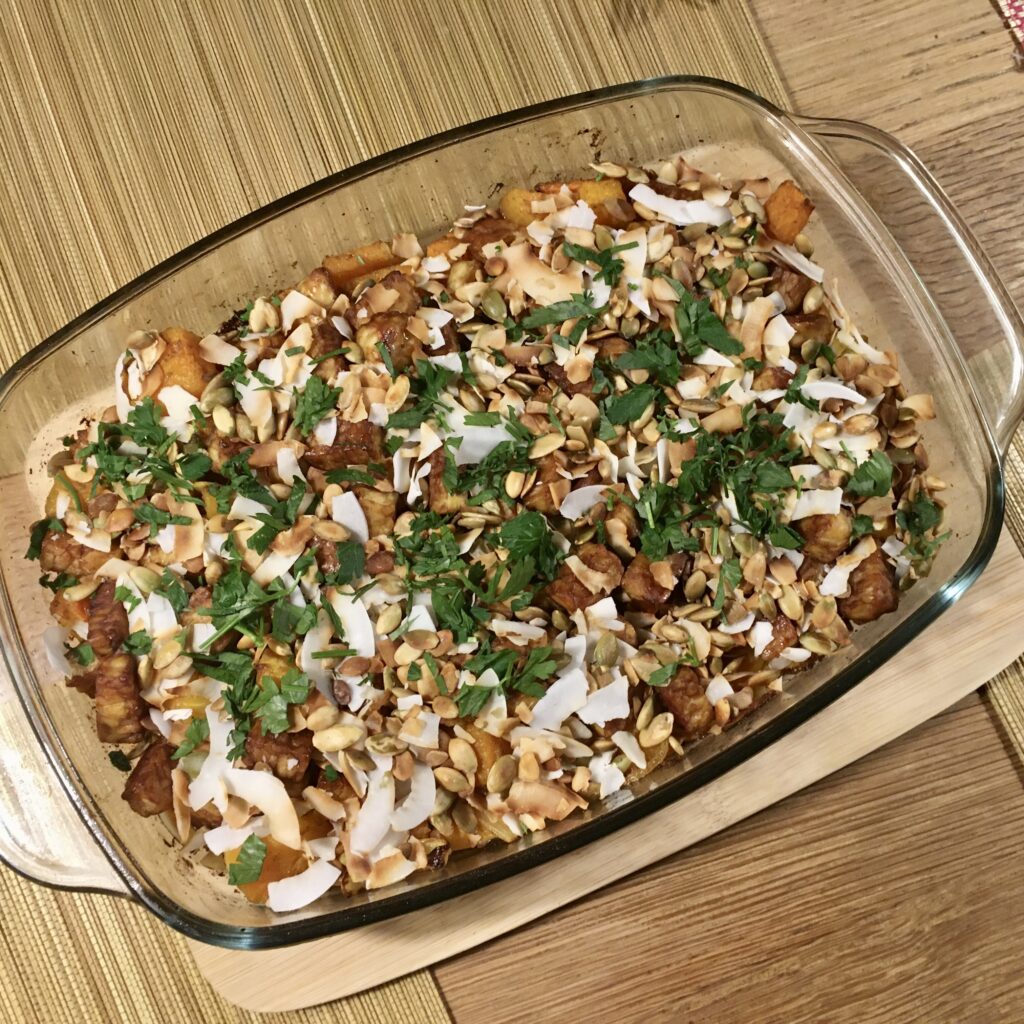 Ingredients
Veggies:
½ butternut squash (peeled and cubed)
3 carrots (peeled if necessary and cut in 1 cm slices)
2 small onions (peeled and cut in wedges)
6 garlic cloves (peeled and crushed)
Spices:
1 heaped tsp turmeric
1 tsp ground cumin
½ tsp cinnamon
½ tsp ginger powder
Pinch of cayenne pepper
Mix with 4-5 tbsp oil (sunflower or olive)
Salt and black pepper
Little honey
Toppings:
250 gr Tempeh
3 tbsp pumpkin seeds
3 tbsp coconut flakes (here I used big flakes)
Soy sauce
Fresh parsley
Method
Prepare veggies as described above and mix with spice-oil-mix.
Drizzle a little honey over the veggies. Add salt and pepper to taste.
Roast in 200 C oven for about 40 minutes (depending on the quality of your oven and the size of the vegetable pieces). Stir occasionally to prevent burning and get equal heat on all veggies.
In the meantime:
Dry roast pumpkin seeds until they pop and brown.
Dry the coconut flakes until they get light brown (careful this goes quickly!)
Chop the tempeh in small rectangles and fry in plenty of oil (eg sunflower or coconut) till they get nice and light brown. Add some soy sauce at the end, toss and stir on the fire for about a minute and then turn off the heat.
When the veggies are pretty much cooked and nice and soft, spread the tempeh pieces equally on top. Cook in the over for another 5 minutes.
Take out of the oven and divide the roasted pumpkin seeds and coconut flakes over the top. Sprinkle with some chopped parsley and voila!